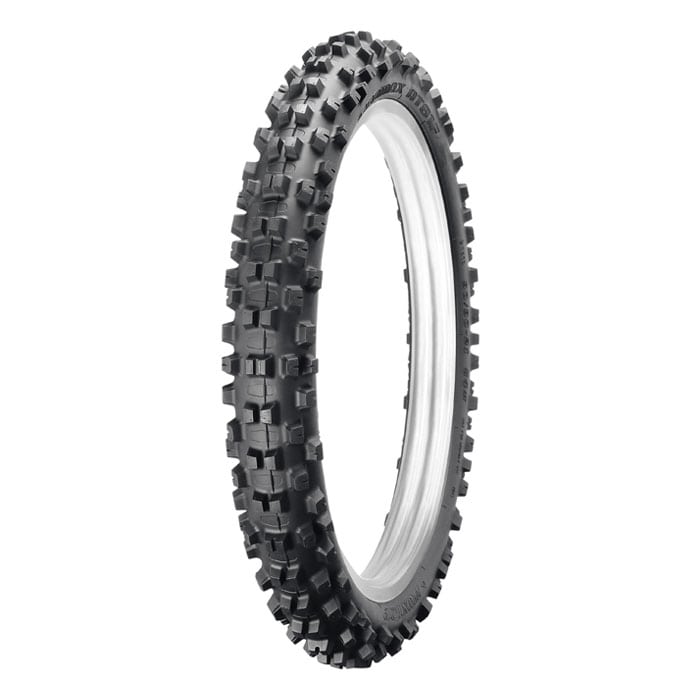 Dunlop Geomax AT81 EX Offroad Tyre Front 80/100-21
DUN-45170621
---
This is a genuine product that is backed up by the official South African distributors.
---
CONVERSION GUIDE: TUBES AND TYRES
Need to convert this size? View our converions guide here
Details
---
---
Internal Reference :
DUN-45170621
The AT81 and AT81RC (Reinforced Construction) and AT81EX ( Endurocross) tires offer more all-around performance plus higher levels of ruggedness for off-road racing and riding. 
FEATURES
AT81 rear tread block shape and distribution plus flexible knobs help the tire penetrate down through the surface dirt for extra traction across a broad range of off-road applications.

Newly formulated high-wear-resistant rear tire compound offers enhanced chipping, tearing, and wear appearance.

Geomax AT81 rear tire carcass features two nylon plies.

Lateral grooves on the shoulder knobs provide additional biting edges and also allow the knobs to be more flexible.

Rear center blocks are arranged in-line to provide a larger contact patch for maximum traction.

Dunlop's "plush pad" recess design between tread blocks enhances compliance for bump absorption and ride comfort.

Front tire construction includes two plies of nylon wrapped with a third ply of polyester for a strong base.


SPEC CHART
TIRE NAME
SIZE
LOAD/SPEED INDEX


PART NUMBER
APPLICABLE RIMS
RECOMMENDED RIM
OVERALL DIAMETER
OVERALL WIDTH
FULL TREAD DEPTH


 
GEOMAX AT81 FRONT
80/100-21
51M
 
45170621
1.60
27.80
3.60
15/32
 
 
GEOMAX AT81 FRONT
90/90-21
54M
 
45170002
1.60
27.99
3.82
15/32
 
 
GEOMAX AT81 REAR
110/90-18
61M
 
45170107
1.85
2.15
26.14
4.80
20/32
 
 
GEOMAX AT81 REAR
110/100-18
64M
 
45170108
2.15
27.13
5.20
20/32
 
 
GEOMAX AT81 REAR
120/90-18
65M
 
45170697
2.15
27.32
5.04
20/32
 
 
GEOMAX AT81 RC REAR
110/90-18
61M
 
45170455
1.85
2.15
25.94
4.84
20/32
 
 
GEOMAX AT81 RC REAR
110/100-18
64M
 
45170482
2.15
27.09
5.04
20/32
 
 
GEOMAX AT81 RC REAR
120/90-18
65M
 
45170664
2.15
26.93
5.20
20/32
 
 
GEOMAX AT81 RC REAR
110/90-19
62M
 
45170588
1.85
2.15
27.44
4.84
20/32
 
 
GEOMAX AT81 EX REAR
110/100-18
64M
 
45229521
2.15
26.80
4.90
20/32